On March 31, 2022, Silo Pharma (OTCQB: SILO) announced an agreement with contract research organization Frontage Laboratories for an Investigational New Drug ("IND")-enabling, "Pharmacokinetic Study." Silo merges traditional therapeutics with psychedelic research to relieve patients suffering from PTSD, Alzheimer's, Parkinson's, and other rare neurological disorders. Frontage will study Silo's Central Nervous System Peptide, SPU-16, "a potential new treatment for multiple sclerosis and other conditions," and their Joint Homing Peptide, SPU-21, used for treating arthritogenic processes, which, according to Silo Pharma CEO Eric Weisblum, could, "enhance the therapeutic effect of current and future therapeutics while decreasing potential systemic toxicity….They may be used to treat both Central Nervous System and Autoimmune Diseases."
Pharmacodynamics studies the reactions between drugs and organisms or, simply, the effect of a drug on the body, allowing for a patient's existing diseases or conditions, their age and other drugs they're currently taking. Conversely, pharmacokinetics studies the body's effect on a drug, its "absorption, distribution, metabolism, and excretion," or the ways and rates a therapeutic enters, courses through, is modified by and finally exits the system.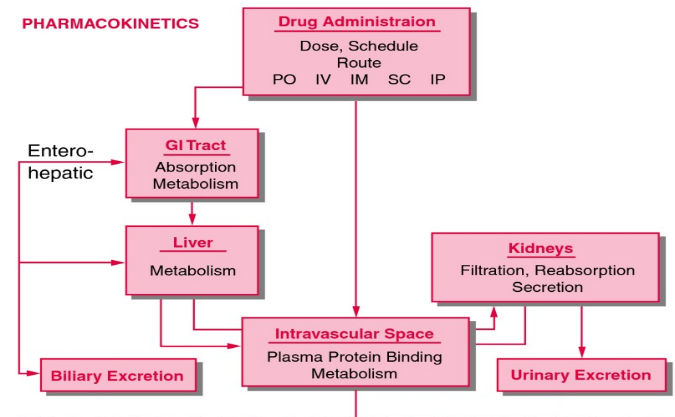 From: Principles of Pharmacokinetics, Copyright © 2003, BC Decker Inc.
DMPK (drug metabolism and pharmacokinetics) constitutes a "core discipline in drug development" for assessing drug safety. According to a Frontage Labs factsheet, DMPK studies provide critical research data, assisting therapeutics innovators like Silo to reach important milestones and "decision making during drug discovery and development." Weisblum says the agreement (with Frontage), "significantly advances our Central Nervous System Peptide, SPU-16, and our Joint Homing Peptide, SPU-21 technologies closer to the clinic." 
For a closer look at Pharmacokinetics, check out: The National Library of Medicine, Technology Networks: Drug Discovery, the XenoTech Blog and the Frontage Resource Library.
Silo Pharma, headquartered in Englewood Cliffs, New Jersey, identifies assets to license and also funds research to better serve patients and advance the health care industry. Recent achievements include a research agreement with Columbia University developing psychedelic therapeutics for Alzheimer's disease, DEA approval advancing (with Zylo Therapeutics) Z-Pod technology for delivering time-released Ketamine or Psilocybin, a patent for Silo's Central Nervous System Homing Peptide, granted by the United States Patent and Trademark Office and a sponsored research agreement with UMB evaluating the pharmacokinetics of dexamethasone delivered to arthritic rats via liposomes.
For Silo Pharma's most recent news, click here.
Silo Pharma
560 Sylvan Avenue, Suite 3160
Englewood Cliffs, NJ 07632
For more information, visit the company's website at www.SiloPharma.com.
NOTE TO INVESTORS: The latest news and updates relating to SILO are available in the company's newsroom at https://ibn.fm/SILO
About PsychedelicNewsWire
PsychedelicNewsWire (PNW) is a specialized content distribution company that (1) aggregates and distributes news and information on the latest developments in all aspects and advances of psychedelics and their use, (2) creates PsychedelicNewsBreaks designed to quickly update investors on important industry news, (3) leverages a team of expert editors to enhance press releases for maximum impact, (4) assists companies with the management and optimization of social media across a range of platforms, and (5) delivers unparalleled corporate communication solutions. PNW stays abreast of the latest information and has established a reputation as the go to source for coverage of psychedelics, therapeutics and emerging market opportunities. Our team of seasoned journalists has a proven track record of helping both public and private companies gain traction with a wide audience of investors, consumers, media outlets and the general public by leveraging our expansive dissemination network of more than 5,000 key syndication outlets. PNW is committed to delivering improved visibility and brand recognition to companies operating in the emerging markets of psychedelics.
To receive instant SMS alerts, text "Groovy" to 844-397-5787 (U.S. Mobile Phones Only)
For more information please visit https://www.psychedelicnewswire.com
Please see full terms of use and disclaimers on the PsychedelicNewsWire website applicable to all content provided by PNW, wherever published or re-published: https://www.psychedelicnewswire.com/Disclaimer
Do you have questions or are you interested in working with PNW? Ask our Editor
PsychedelicNewsWire (PNW)
San Francisco, California
www.psychedelicnewswire.com
415.949.5050 Office
Editor@PsychedelicWire.com
PsychedelicNewsWire is part of the InvestorBrandNetwork.